Nordjysk Project Management - your partner for a sustainable future
At Nordjysk Projektledelse ApS, we are dedicated to providing professional project management to companies that help create a more sustainable future. Our expertise extends over a wide range of areas within green conversion, including among others Biogas plants, Boiler plants, wind and solar energy.
Cooperation on green transition
We understand the importance of creating solutions that balance economic, social and environmental considerations and create long-term value. We do not see our customers as customers, but rather as our business partners.
Nordjysk Project Management is passionate about contributing to the green transition and creating a sustainable future. Our goal is to help companies realize their green potential while achieving economic growth and competitive advantages.
We work closely with you to identify and implement the most effective strategies and approaches that fit your company's unique needs and goals.
Project management for green transition
When you collaborate with Nordjysk Project Management, you get access to our experienced and competent project managers who have a deep understanding of green technologies and innovative solutions.
We offer a wide range of services within project management including project design and planning, resource management, stakeholder analysis and project management. Regardless of whether you plan to upgrade your energy systems, implement sustainable production methods or optimize your company's logistics to reduce CO2 emissions, we are here to help you achieve your green goals.
Contact Nordjysk Project Management to hear more about our services and how we can help you safely through your green conversion project.
That's what our customers say
"In connection with the lack of a senior project manager, for which there were very high professional requirements, Verdo Energy Systems A/S has had an excellent collaboration with Nordjysk Projektledeles. Lars Ubbesen from Nordjysk Projektledeles has acted both competently and agile in his mindset throughout the process, and it resulted in us jointly finding the right solution."
Thank you for Nordjysk project management efforts in the last 7 months at the Port Of Aalborg (POA), where the Danish Project management has guided the Port of Aalborg digitisation project. Thanks to the North project management effective & professional efforts are POA made good progress and has become a bit wiser than what the POA was for ½ year ago
?When we have needed to get flexible capacity, But the Project has been very valuable for us. But the Project has several times been to assist with the supply of competent and professional consultants. We are experiencing to the North, the Project management is always both friendly and sympathetic in relation to our requirements and wishes. The hallmark of the North project management work is that they are always working professional, abilities that can deliver within short time without compromising on quality?.
When you choose NPL as your project partner, we take responsibility. In our team, everyone is experienced in project management and certified in either Prince2®, Scrum, Half Double or SAFe®. Contact us or book a meeting to find out more about your project.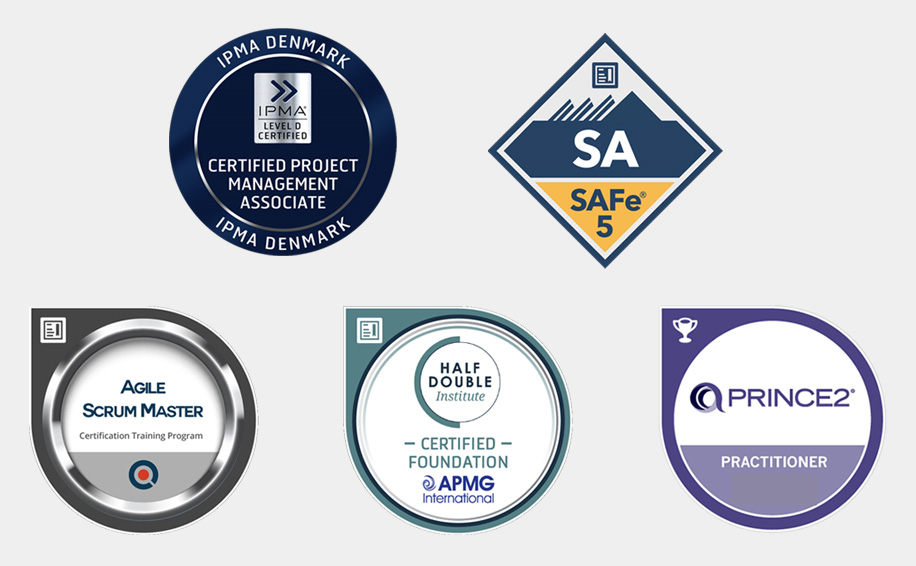 We'll get you to the finish line
Our goal when we carry out projects is to create flow, ensure delivery and make sure that the projects reach their destination with our customers.
We also help you in goal with a project?
Contact us by e-mail or telephone - or send us a direct message in the contact form.
Our goal when we carry out projects is to create flow, ensure delivery and make sure that the projects reach their destination with our customers.
We also help you in goal with a project?