Hire an experienced, external project manager
When your company lacks resources, or if a project is in need and requires special attention from management, acquiring professional assistance for project management can be an advantageous solution.
Nordjysk Project Management can be hired as a project management capacity, where we can help with extraordinary project challenges or help with sub-tasks within a project and build / maintain a close relationship with all the project's stakeholders. We specialize in working flexibly, so we are able to adapt to your working model, regardless of the size of your company and your project.
When NPL is brought into a project
When Nordjysk Project Management is brought into a project, we act as a project manager, mediator and a sparring partner who thinks holistically and who also has the skills to delve into the details when required. In addition, we also provide the experience to work with different tools and systems.
At Nordjysk Project Management, we focus on quality, cost management, deadlines and the unexpected, where we adjust in relation to the current situation throughout the entire life of the project. A collaboration with us can be both local and remote, regardless of whether you operate with agile and traditional project management.
In larger companies, more complicated processes are included when investigating a project. Supply chain and logistics handling during new product launches can be overwhelming when you also have to deal with other tasks at your workplace. We offer you to be the piece that gathers the overview and that, through collaboration, guides you safely through all phases.
Manage internal change projects
Management of development, operation, IT & digitization projects
Facilitation of workshops or longer courses
Development of project methods
Interim Project Management
That's what our customers say
"In connection with the lack of a senior project manager, for which there were very high professional requirements, Verdo Energy Systems A/S has had an excellent collaboration with Nordjysk Projektledeles. Lars Ubbesen from Nordjysk Projektledeles has acted both competently and agile in his mindset throughout the process, and it resulted in us jointly finding the right solution."
Thank you for Nordjysk project management efforts in the last 7 months at the Port Of Aalborg (POA), where the Danish Project management has guided the Port of Aalborg digitisation project. Thanks to the North project management effective & professional efforts are POA made good progress and has become a bit wiser than what the POA was for ½ year ago
?When we have needed to get flexible capacity, But the Project has been very valuable for us. But the Project has several times been to assist with the supply of competent and professional consultants. We are experiencing to the North, the Project management is always both friendly and sympathetic in relation to our requirements and wishes. The hallmark of the North project management work is that they are always working professional, abilities that can deliver within short time without compromising on quality?.
When you choose NPL as your project partner, we take responsibility. In our team, everyone is experienced in project management and certified in either Prince2®, Scrum, Half Double or SAFe®. Contact us or book a meeting to find out more about your project.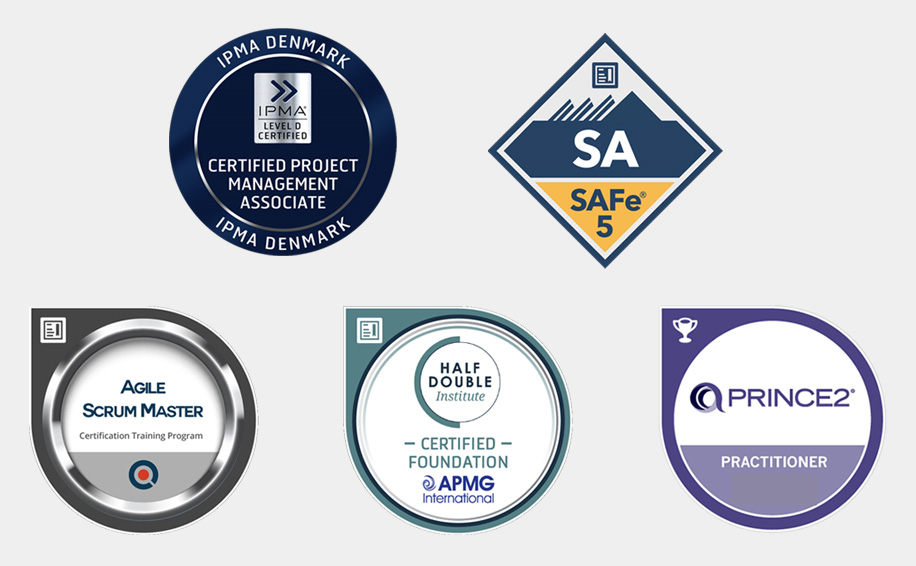 We'll get you to the finish line
Our goal when we carry out projects is to create flow, ensure delivery and make sure that the projects reach their destination with our customers.
We also help you in goal with a project?
Contact us by e-mail or telephone - or send us a direct message in the contact form.
Our goal when we carry out projects is to create flow, ensure delivery and make sure that the projects reach their destination with our customers.
We also help you in goal with a project?