A consultancy house with the craftsmanship in order
Nordjysk Project Management is a consultancy with a focus on further developing and maintaining our project management tools. For us, this means that we focus on our employees' development as well as sharing knowledge of new theories and methods about program – project management.
At Nordjysk Project Management we believe that knowledge sharing plays an important role in organizations for many reasons: In today's increasingly complex and technologically advanced world, knowledge sharing has become a necessity to achieve increased innovation, efficiency and collaboration. That is why knowledge sharing is one of our fundamental values, so that our customers get project management with quality.
How we in Nordjysk Project Management make use of knowledge sharing
Efficiency: First, knowledge sharing can improve a project manager's efficiency and productivity. By sharing knowledge and experience, the company's employees can use existing resources and experience more effectively. It equals working smarter.
Innovation: When people with different backgrounds and perspectives come together and share knowledge and experiences, it often leads to new ideas and innovation. Different perspectives bring new ideas to the table, and by combining them you can create something unique and innovative.
Better collaboration: Knowledge sharing promotes cooperation and makes it easier to share projects and objectives. It also leads to stronger relationships and the synergistic effect: 2 + 2 = 5.
Decision making: Knowledge sharing promotes the ability of decision makers to make better and more informed decisions as they have access to a wider range of perspectives and information. It minimizes the risk of mistakes and improves the ability to make smarter decisions in less time.
Minimizing errors: Because knowledge sharing reduces the risk of repeating mistakes, it leads to more efficient use of resources and time.
Development: Not least, knowledge sharing promotes personal and collective learning and therefore development. When we share knowledge and experience, it leads to more continuous development, building new knowledge on existing and improving skills.
Overall, knowledge sharing is essential to achieve increased innovation, efficiency and collaboration across the company. By promoting knowledge sharing, we can work smarter, make better decisions and achieve greater success in their goals and projects.
That's what our customers say
"In connection with the lack of a senior project manager, for which there were very high professional requirements, Verdo Energy Systems A/S has had an excellent collaboration with Nordjysk Projektledeles. Lars Ubbesen from Nordjysk Projektledeles has acted both competently and agile in his mindset throughout the process, and it resulted in us jointly finding the right solution."
Thank you for Nordjysk project management efforts in the last 7 months at the Port Of Aalborg (POA), where the Danish Project management has guided the Port of Aalborg digitisation project. Thanks to the North project management effective & professional efforts are POA made good progress and has become a bit wiser than what the POA was for ½ year ago
?When we have needed to get flexible capacity, But the Project has been very valuable for us. But the Project has several times been to assist with the supply of competent and professional consultants. We are experiencing to the North, the Project management is always both friendly and sympathetic in relation to our requirements and wishes. The hallmark of the North project management work is that they are always working professional, abilities that can deliver within short time without compromising on quality?.
When you choose NPL as your project partner, we take responsibility. In our team, everyone is experienced in project management and certified in either Prince2®, Scrum, Half Double or SAFe®. Contact us or book a meeting to find out more about your project.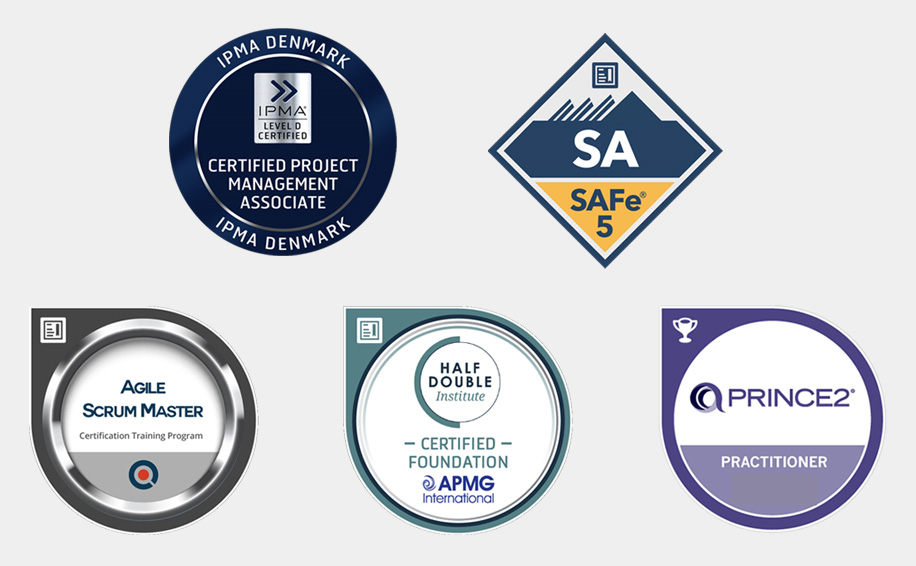 We'll get you to the finish line
Our goal when we carry out projects is to create flow, ensure delivery and make sure that the projects reach their destination with our customers.
We also help you in goal with a project?
Contact us by e-mail or telephone - or send us a direct message in the contact form.
Our goal when we carry out projects is to create flow, ensure delivery and make sure that the projects reach their destination with our customers.
We also help you in goal with a project?